Aaron's Debut CD


The highlighted selections are MP3 files.
1. Come in from the Rain
2. Smile (Excerpt)
3. I Say a Little Prayer (Excerpt)
4. Tenderly
5. Somos Novios (Excerpt) - Vocalist: Luis Ortiz
6. Moon River
7. A House is Not a Home
8. You Must Love Me - Vocalist: Felicia Hernandez
9. This Is the Moment (Excerpt)
10. Misty (Excerpt)
11. Night and Day (Excerpt)
12. Strangers in the Night
13. What I Did for Love
14. Somos Novios - Instrumental Version
15. La Vie en Rose
16. Valentine (Excerpt) - Vocalist: Kris Nielsen
17. Over the Rainbow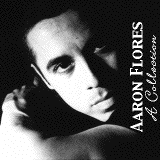 Aaron Flores, Pianist
Featuring guest vocalists Felicia Hernandez, Kris Nilsen, and Luis Ortiz and guest musicians Ponty Bone (muzette accordian), Javier Chaparro (violin), Mike Malone (saxophone), Brian Standefer (cello), and John Thomason (synthesizer).
Produced by Aaron Flores
Engineered and mastered by Rick DeLellis
Recorded at Figment Studios, Austin, Texas
Copyright 2001
All Rights Reserved